SOLD OUT – THANK YOU FOR YOUR SUPPORT!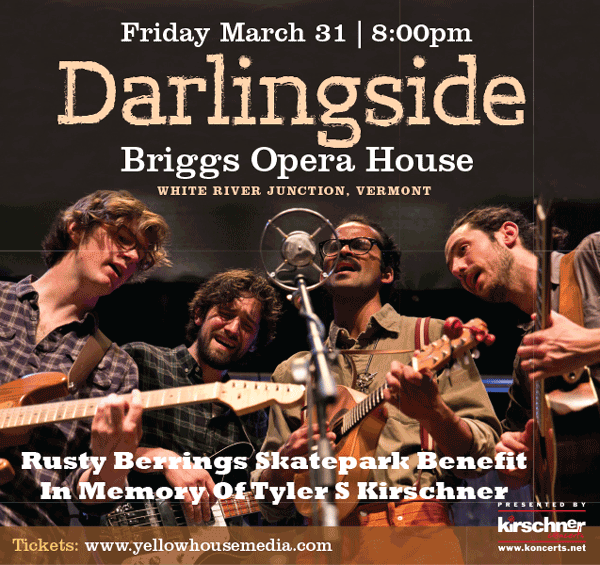 Darlingside
Friday March 31 at 8:00 pm
Briggs Opera House, White River Junction, VT
The members of Darlingside met at Williams College in western Massachusetts. "Auyon and I were paired as freshman year roommates," Dave recalls. "We fought often, but we spent so much time together that we very quickly became like brothers." They joined a singing group with Don, and Harris joined the same group two years later. From there, the four bonded over a shared interest in songwriting, despite a diversity of musical backgrounds and performance styles including chamber music, choral singing, Celtic session playing, and street busking.
Listening to Darlingside, you can hear fingers on strings, breathing in the singing, squeaks and pumps from a harmonium. The band performs the songs the same way they practice and write them—seeing them live is like sitting in their living room. There are still vestiges of rock: electric guitar fuzz and ambient feedback creep into otherwise acoustic arrangements. But voices and melody have shifted to the forefront—a shift that has become important to the band. Harris explains, "we try to write songs that exist out of the context we set them into, songs that can just be sung."
This concert benefits Rusty Berrings Skatepark Revitalization in Memory of Tyler S. Kirschner.
SOLD OUT – THANK YOU FOR YOUR SUPPORT!